Fascia and Soffit Painting
Worn out paintwork on the Soffits and Fascia's of your home or business will make the entire property look tired and neglected. You can save yourself the expense and hassle of replacing them by contacting CCS. We offer a cost effective solution, to help make your soffits & fascia's look brand new without paying to replace it.
Landscaping
Our highly skilled team can work efficiently and professionally on your backyard and garden landscaping projects of any size, transforming your outdoor space into the outdoor space you've been dreaming of. For a free garden survey and a competitive, obligation-free quote, get in touch with us today and take the first steps towards turning the garden of your dreams into reality.
Treework & Tree Surgery
With services including tree trimming, cutting and pruning, our workers are overseen by industry directors to ensure only the highest standard of service and workmanship. Trees are maintained in a professional, expert and efficient manner, at an extremely competitive price.
Fencing
We offer and install a large variety of property fencing types, heights, colours, using high-quality materials at excellent costs. If you are not sure which option will be the best for you, our chief landscaping surveyor can suggest a ton of property fence ideas that will meet your requirements and budget.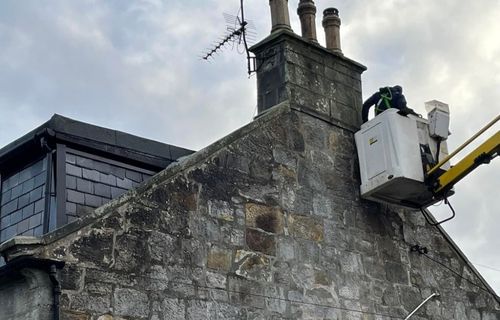 Repointing Work
Repointing becomes necessary when the existing pointing work on a masonry wall becomes defective and no longer provides a defence against water entering the wall. When pointing deteriorates to the extent that water freely penetrates the external skin there is an increased chance of damp in the property, the process of frost weathering is worsened and the chance of wall tie failure is more likely.
Exterior Painting
The exterior look of your property is important. It's the first impression when people visit your home, and neighbours are sure to judge if your house looks shabby. So, if you're looking for exterior painters in Glasgow, come to CCS. Whether it's painting facades, windows, metal railings or external walls, we'll hand the job. Our team of experts will use the best materials to ensure that your property looks stylish, clean and inviting to visitors.
Don't Know What To Start With?
Get Solutions For All Your Restoration Needs
If you have ever tried to clean an industrial workplace by yourself, you'll know that it is a difficult and demanding task. You cannot get desired results because, despite your best efforts, it is still missing the professional touch. In these circumstances, if you are thinking about hiring professional cleaning services, Commercial Cleaning Scotland is here for you.