Coronavirus Contact Free Gutter Cleaning
We are changing the way we do business in light of the Coronavirus outbreak.  CCS will now deliver contact free gutter cleans to all of our customers until further notice.
Professional Monoblock Driveway Cleaning and Sealing
Pressure, Jet and Power Washing Services in the Renfrewshire & surrounding areas
The Leading Commercial Cleaning Services in the Renfrewshire area
Want to get rid of the dirty, hard to clean areas? With Commercial Cleaning Scotland at your disposal, this is no longer a problem! Our team of experts masters all techniques of providing cleaning services.
In Today's world, everyone wants that their surroundings to be clean and crystal clear. But it is always a problem when you start doing it by yourself because the results are nowhere near good enough. Driveways and mono-blocks add just another hurdle as it is quite difficult to get rid of the dirt and weed who don't want to part from the surface! And who wants to jump into the gutter to clean all that shit? Commercial Cleaning Scotland has a solution to all of these problems.
Our Innovative solutions include providing services from Driveway cleaning to Mono-block cleaning. Our team of experts can also easily deal in Driveway and Monoblock Sealing as well as re-sanding as these are some essentials one needs to do after some time.
Along with that, Commercial Cleaning Scotland has experts that can help in paving repairs and maintenance. We also provide Roof cleaning services, making sure to remove all that moss and dirt off your roof without causing any damage to the pipes.
Moreover, Commercial Cleaning Scotland provides services for Gutter Cleaning as well. We will make sure nothing is clogged there, and our modern techniques with advanced technology help us clean those gutters without any hassles making us the best in town! With our skyvac and generator technology, we can clean the gutters from the ground and never need to come in touch with the clients. Additionally, we provide evidence of cleaning to the clients so that they are completely satisfied with our services.
Commercial Cleaning Scotland also has diverse experience in decking cleaning. We assure you to rub off every alga and mold off your deck. With years of experience, our experts know how to make sure that the deck is not damaged during the process. What comes out is a perfectly cleaned deck that looks just like the day it was first built.
All of this was not possible without our years of experience in washing, where we have mastered the techniques of Jet Washing and Power Washing. Our target is always to provide quality services to people so that they are satisfied and can easily rely on our cleaning services to get areas cleaned that otherwise get ignored or are hard to reach!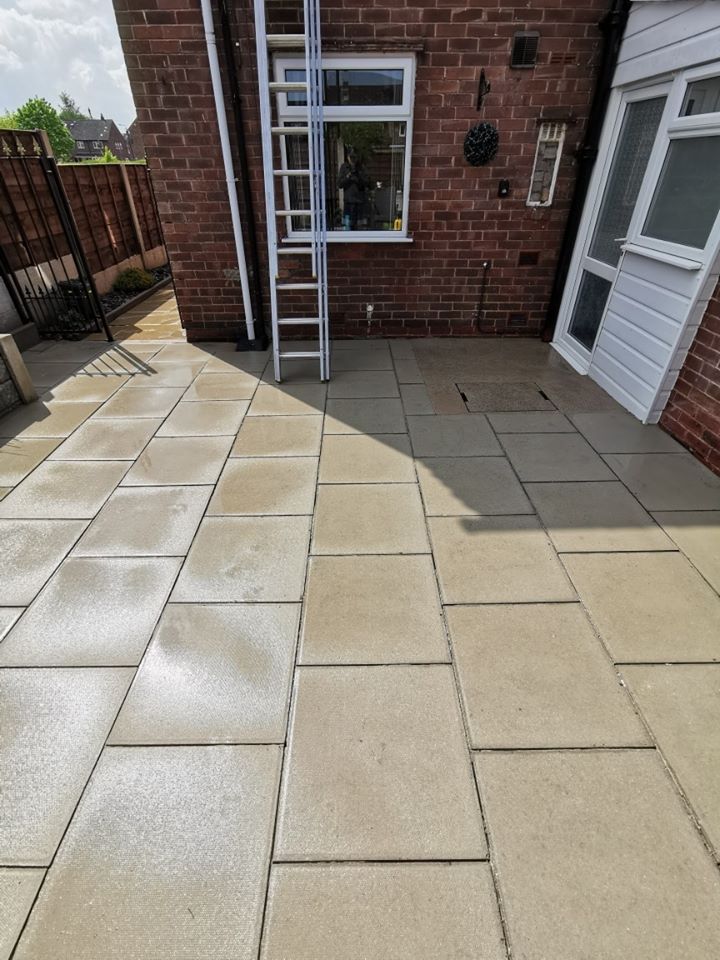 Domestic & Commercial Cleaning
If you have ever tried to clean an industrial workplace by yourself, you'll know that it is a difficult and demanding task. You cannot get desired results because, despite your best efforts, it is still missing the professional touch. In these circumstances, if you are thinking about hiring professional cleaning services, Commercial Cleaning Scotland is here for you.
Roof Cleaning
People generally think that roof cleaning in Scotland is a simple task they can try and undertake without the help of professionals. However, this idea could not be further from the truth because it is essential to keep in mind that roof cleaning is a delicate process that requires calculated evaluation as well as specialised materials. Commercial Cleaning Scotland allows you to get the best roof cleaning services with satisfactory results.
Driveway Cleaning
We specialise in professional driveway cleaning in the Renfrewshire area. We also provide monoblock cleaning, driveway sealing, monoblock sealing, driveway re-sanding and monoblock re-sanding for residential, commercial and industrial customers in Renfrewshire,Glasgow, and all over Scotland.
Solar Panel Bird Proofing
People come up with some weird and wacky ways of solar panel bird proofing.  We have seen everything suggested from shooting at the birds with an air gun or BB gun, aiming a paint ball gun at their nests, or physically climbing up a ladder and removing the birds' nests by hand.
None of these methods of solar panel bird proofing are recommended. They will not work long term and not only are these methods cruel, even though pigeons are considered vermin; they are highly likely to damage the solar panels leading to costly damage and an invalidation of any warranty.
Gutter Cleaning
At Commercial Cleaning Scotland we offer full gutter cleaning services to help unblock downpipes, drains, fix any leaks and test all gutters as part of our dedicated service to our vast range of clients all over Scotland.
Roof Coating
Your roof is one of the most noticeable parts of your house so it is important to have this looking as clean and fresh as possible. Once you have had your roof cleaned professionally, removing any patches of unsightly and damp causing moss and algae, it makes sense to then treat it with a biocide in order to prevent any re-growth.
Following cleaning and biocide treatment, the final part of the puzzle is to apply a roof coating in order to keep your roof looking as bright and as well maintained as it was on the day it was cleaned.
Decking Cleaning
It is essential to know that deck cleaning at regular intervals is challenging due to the absence of material and techniques. If your people are also feeling challenging to clean your deck area, Commercial Cleaning Scotland is here for you. Here are several surprising reasons that allow you to hire our services; let's look at them.
Cladding Cleaning
Cladding is often used to improve the appearance of a building but when it becomes dirty or discoloured, it makes your entire property look even worse. Moss growth is especially noticeable and it sends a very bad message to everyone who sees it.
If you run a business from a building with dirty and discoloured cladding, it creates a very bad impression on potential customers who will be deterred by your obvious lack of pride in your business. If your home has dirty cladding, it makes your entire property look uncared for and neglected.
If you have any question regarding our services, or would like a quote, please contact us now! 
OUR ADDRESS
723 Ritchie Park
Johnstone 
PA5 8LE

We specialise in all aspects of residential and commercial driveway cleaning, monoblock cleaning, driveway sealing, monoblock sealing, roof cleaning, pressure washing, power washing, jet washing and associated services, CCS are the number one choice for property owners in the Renfrewshire area.
ADDRESS
723 Ritchie Park
Johnstone 
PA5 8LE